The "4IR (4th Industrial Revolution)" awards ceremony was held on November 2, 2021, at the Korea Press Center in Seoul, Korea. This ceremony was sponsored by the Ministry of Trade, Industry and Energy, Ministry of Education, and the Ministry of Environment.
This event, hosted by MONEYTODAY, was established the year after the first declaration of the advent of the '4th Industrial Revolution' at the World Economic Forum (WEF, Davos Forum) in 2016. In the first year, it was intended to encourage interest in domestic technologies in fields such as big data, AI (artificial intelligence), and drones, but it became more concrete as the years went on.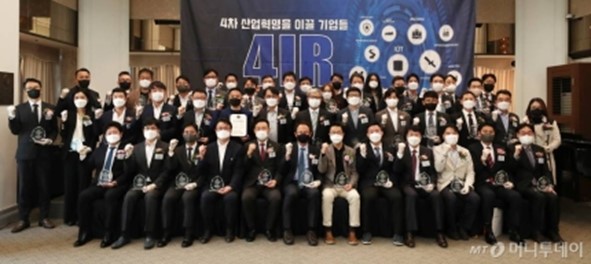 This year, the field was subdivided into 'Digital New Deal', 'Bio Health', and 'Green New Deal'. With the spread of COVID-19, digital transformation has accelerated, and human health and sustainable growth with the environment are emerging as well. It was also considered that the 4th industrial revolution does not only refer to specific technologies, but also creative innovations related to such digitalization.
The award-winning companies are divided into three main categories. First, it is a company equipped with technology suitable for the government-fostered industry so-called "BIG3" (system semiconductor, future car, bio-health). The second is the digital new deal-related companies with core infrastructure such as AI, big data, IoT (Internet of Things), smart city, and smart factories. Lastly, it is a 'Green New Deal' company equipped with carbon-free and eco-friendly high technology. The main commonality of the award-winning companies in this event is that they are proving their potential and showing their respective prominence in the high-tech market that centered on the big companies around the world.
In the review, Dongguk University professor Lee Jong-seop said, "With the catalyst of Corona, companies in Korea are in a situation where they have to respond quickly to the corona pandemic, and the upcoming post-Corona". He also mentioned that the award-winning companies today are contributing to development by putting effort into digitalization. He also stated that the main players leading the 4th industrial revolution are not only limited to some big tech companies such as Google, which created AlphaGo but including any companies that contribute to hyper-connection and super intelligence related.