Alkym® Platform to Support Maintenance Operations for Incoming Fleet of Boeing 757s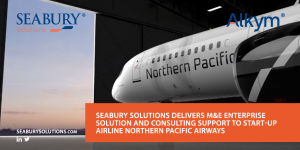 NEW YORK – November 3, 2021 – Seabury Solutions, a subsidiary of New York-based Seabury Capital Group LLC and the market leader in delivering aircraft M&E and MRO software solutions for the aviation industry, announced today the addition of a new North American customer for its Alkym® Platform, an Anchorage-based start-up airline, Northern Pacific Airways. The carrier will utilize the system's capabilities to support their engineering requirements for a fleet of incoming Boeing 757s.
"M&E/MRO IT solutions are at the core of every airline's ability to keep maintenance costs in check, particularly as you begin operation as a start-up," emphasized Carlos Bianchi, Seabury Solutions' VP, Head of Sales & Marketing. "We are delighted to welcome Alaska's newest airline to our Alkym customer base. Our consultants look forward to assisting the carrier's team in preparing the work scope for maintaining their incoming aircraft, which will subsequently benefit the data migration process."
Prior to entering service, the aircraft will undergo a full C-level maintenance check by the end of this year. The airline plans to continue expanding its fleet as it prepares to launch passenger flights, with a target of twelve in-service aircraft before the end of 2022.
After choosing Engineering, Maintenance Control, Planning, Reliability, Inventory, Purchasing and Repairs, Receiving and Shipping, and the Alkym Mobile App, the airline will digitally enhance their operational processes, while satisfying their maintenance and regulatory requirements.
Steven Pruitt, VP Maintenance Boeing Northern Pacific Airways, remarked: "Utilizing the flexibility of Alkym to manage the incoming fleet of 757s will ensure total digital control of our M&E operations. Seabury Solutions' real-time response for support is a critical advantage that the IT vendor offers, which allows us to focus on the operating of our business."
ABOUT NORTHERN PACIFIC AIRWAYS
Northern Pacific Airways is a start-up airline is based in Anchorage, Alaska. Recently formed under their parent brand, Ravn Alaska.   The new airline plans to operate scheduled passenger services to Asia and the continental United States. Its main base is Anchorage Ted Stevens.
ABOUT SEABURY SOLUTIONS
Seabury Solutions is a leading global aviation software development and consultancy company. It was established in 2002 and is part of Seabury Capital Group LLC. Seabury Solutions has built its reputation in the market by delivering an industry-leading aviation suite of IT solutions that enhance the efficiency and decision-making process for airlines, regulators and MROs.
Seabury Solutions' integrated aviation software portfolio encompasses the Alkym® Maintenance Systems for airlines & MROs, eAuthority® (a safety management software for aviation authorities), and a range of airline performance analysis tools within the Enterprise Performance Analysis System (EPAS). The EPAS® suite has models that include capabilities in determining current and future route profitability, maintenance performance, budget planning, fuel planning and distribution channel performance. Reference Seabury Solutions at www.seaburysolutions.com.