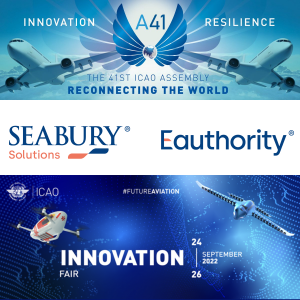 Seabury Solutions are excited to be exhibiting at both, the ICAO Innovation Fair and the ICAO A41, in Montreal this weekend. The theme of the Innovation Fair 2022 is "Innovation for Enhanced Resilience in International Civil Aviation" With the Innovation Fair beginning on Saturday 24th – Monday 26th, and the A41, commencing the following day, it's sure to be an interesting week of discussions surrounding the innovation in aviation and the positive affect that it has in the industry, in particular, during the aftermath of Covid-19.
CEO, Bijoy Mechery & SVP, Head of Civil Aviation Practice, Luc Beaudoin, will be representing the Seabury Solutions team in Montreal, and are looking forward to meeting the many State representatives and attendees, at the long awaited return of the event.
One of the products within our digital transformation suite, that our team will be showcasing, is Eauthority.  Designed for regulatory and compliance for Civil Aviation Authorities the flexible solution is used by many Authorities worldwide. Eauthority is the leading, single management solution to control the safety oversight & regulatory processes, while providing key information on a multi platform dashboard, to support decision making.
If enhancing the operational & safety processes of a CAA is on your agenda, be sure to drop by the Seabury Solutions booth to arrange a brief demo, of  one of the industry's most comprehensive regulatory solutions. See how Digital Transformation can drive your innovation.
To arrange a meeting, please write to us HERE! See you in Montreal.