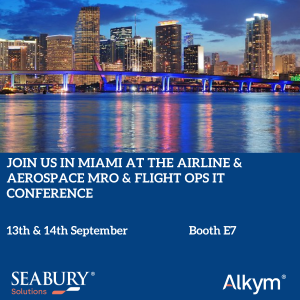 The Seabury Solutions team will be exhibiting at this years Airline & Aerospace MRO & Flight Ops Conference, in Miami, hosted by Aircraft Commerce.
If enhancing your organization's MRO/M&E processes is on your horizon, then be sure to drop by the Seabury booth, E7. VP, Head of Sales & Marketing, Carlos Bianchi & VP, LATAM, Manuel Roche, will be there to discuss the operational benefits that Alkym can bring to your aerospace operation.
Alkym enables it's users to seamlessly integrate with third party or in-house solutions, through its flexible design. It's also highly customizable, which allows you to request any specific development features, relevant to your requirements.
Some additional benefits:
Rapid & effective implementation
Intuitive & easy to use interface
Quick return on investment
Highly configurable by end user
To arrange a demo or book a meeting, please contact us here. This will allow us the time to show you, how one of the industry's leading Aircraft Maintenance Software, can increase the operational and financial performance of your organization.
We look forward to seeing you soon.