The Company's end-to-end MRO IT Solution Enhances the Caribbean Airline's Technical Operations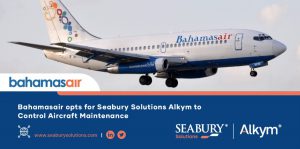 NEW YORK – February 28, 2023 – Seabury Solutions, a market leader in providing Information Technology solutions for the aviation industry, announced today the recent addition of Bahamas national airline, Bahamasair, to its growing base of Alkym customers.
Bijoy Mechery, Seabury Solutions CEO & President commented: "At Seabury Solutions, we are committed to delivering the best solutions for our customers, and we understand the challenges they face when transitioning away from legacy systems. Our team's extensive industry expertise and flexible approach allow us to efficiently execute database conversions and meet our customer's specific needs and timelines. We look forward to working with Bahamas Air and helping them achieve their business goals."
"We are thrilled to welcome the most recent addition to our expanding customer network in North America. The time dedicated to truly understanding a client's requirements and continuous development in state-of-the-art software has been at the forefront of why so many of our customers have selected our MRO/M&E system," commented Seabury Solutions VP, Head of Sales & Marketing, Carlos Bianchi.
The implementation in Bahamasair is currently underway, with the airline selecting the suite of Alkym modules, to manage and control their aircraft maintenance, material logistics and regulatory compliance, for the fleet of B737s and ATRs.
Dion Rolle, Director of Maintenance, Bahamasair remarked: "Alkym's flexibility, easy to use, wide capacity to communicate with legacy systems and intuitive interface, will ensure our technical team seamlessly adapt to the latest digital technologies used to support aircraft maintenance, while complying with our regulatory requirements."
Bahamasair was established in 1973 as a product of a newly established independent commonwealth of The Bahamas. The national flag carrier of the Bahamas, is headquartered in Nassau and operates a mix of B737s and ATR aircraft. The airline have scheduled services to 32 domestic and regional destinations in the Caribbean and the United States from its base at Lynden Pindling International Airport.
Seabury Solutions is a leading global enterprise software development and advisory company. It was established in 2002, building its reputation in the market by delivering an industry-leading aviation suite of IT solutions that enhance the efficiency and decision-making process for Airlines, Defense Organizations, Helicopter Operators, Regulators, and MROs.