Seabury Solutions Exhibiting at the LAAD Defence & Security event in Rio de Janeiro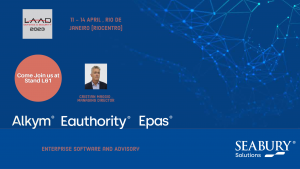 Seabury Solutions' Managing Director, Christian Maggio, will be exhibiting at the LAAD Defence & Security – International Defense and Security Fair, from 11th-14th April, in Rio de Janeiro This is one of the largest Defence & Security events in Latin America and a must for key executives of the Defence & Security industry to see what solutions can enhance their operational processes.
Christian will be at booth L61 and will be showcasing the Seabury suite of software to enhance the operational, safety & financial performance, of Aerospace & Defense organizations.
Utilizing decades of technological expertise in-house, we have leveraged this knowledge into a suite of products that enhance the decision-making process for Asset Management, MROs/M&E, Regulatory Compliance, Safety Oversight & Performance Analysis.
To book a meeting, please contact us here https://www.seaburysolutions.com/contact-us/ 
For more information on the show, you can visit the LAAD Expo website here https://www.laadexpo.com.br/en/