Seabury Solutions to Showcase Cutting-Edge Maintenance Software at Aerospace Tech Week 2023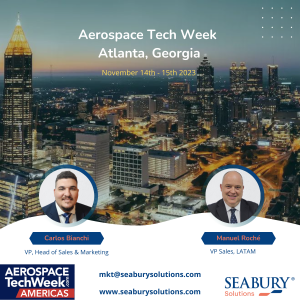 New York, 13th November 2023 – Seabury Solutions, a global leader in aviation software solutions, is excited to announce its participation in the upcoming Aerospace Tech Week conference, scheduled to take place in Atlanta, Georgia, on November 14th – 15th 2023. The event will feature an exclusive showcase of Seabury Solutions' leading Maintenance Software, Alkym.
Aerospace Tech Week is a worldwide gathering of industry experts, innovators, and decision-makers in the aerospace and aviation sector. It offers an exceptional platform for companies to present their latest technologies and solutions, making it the ideal stage for Seabury Solutions to highlight Alkym, a highly flexible and configurable software solution that has been supporting the aviation maintenance industry for over 20 years.
Carlos Bianchi, Vice President, and Head of Sales & Marketing at Seabury Solutions and Manuel Roché, Vice President Sales LATAM will be on hand to provide in-depth insights into Alkym's capabilities and its ability to transform aircraft maintenance processes. Alkym is designed to streamline maintenance operations, increase efficiency, reduce downtime, and enhance overall safety and compliance.
Key highlights of Seabury Solutions' participation at Aerospace Tech Week 2023 include:
Live demonstrations of Alkym's cutting-edge features and functionalities.
Discussions on how Alkym can optimize maintenance processes for airlines and MROs.
One-on-one interactions with Seabury Solutions' experts to answer questions and explore partnerships.
Manuel Roché, VP Sales LATAM expressed his enthusiasm for the event, saying, "Aerospace Tech Week is a significant platform for us to connect with industry leaders and showcase the transformative power of Alkym. We are dedicated to helping our clients achieve unparalleled levels of operational excellence, and Alkym is a testament to that commitment."
Carlos Bianchi, VP & Head of Sales & Marketing, added, "Our presence at this event underscores our dedication to the North American market and our aim to provide cutting-edge solutions to airlines and MROs in the region. We look forward to engaging with industry peers and potential partners."
Seabury Solutions invites all attendees to visit their exhibition booth to learn more about Alkym and explore how this advanced maintenance solution can help them stay ahead in the dynamic aerospace and aviation industry.
For more information about Seabury Solutions and Alkym, please visit our website at www.seaburysolutions.com.