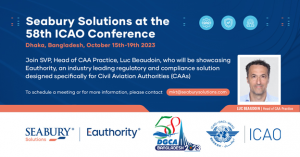 Berlin, 12th October – Seabury Solutions, a global leader in aviation software solutions, is thrilled to announce its participation in the 58th Conference of Directors General of Civil Aviation, organized by the International Civil Aviation Organization (ICAO). The event is scheduled to take place in Dhaka, Bangladesh, from October 15th-19th 2023. Seabury Solutions' Senior Vice President and Head of CAA Practice, Luc Beaudoin, will be in attendance to present the company's innovative regulatory & compliance solution, Eauthority, designed specifically for Civil Aviation Authorities (CAAs).
The ICAO Home-58th Conference of Directors General of Civil Aviation is a prestigious event that brings together aviation leaders, regulators, and industry experts from around the world. The conference serves as a platform for sharing knowledge, discussing global aviation challenges, and exploring solutions to enhance the safety and efficiency of civil aviation.
Seabury Solutions, a recognized pioneer in aviation software, is proud to participate in this significant event. Eauthority, is designed to empower CAAs with advanced tools and capabilities to effectively manage regulatory oversight, compliance, and safety activities. Eauthority streamlines processes, enhances collaboration, and ensures the highest levels of safety and security in the aviation sector.
Luc Beaudoin, Senior Vice President, and Head of CAA Practice at Seabury Solutions will be available during the conference to provide insights into Eauthority's key features and benefits. Mr. Beaudoin is a seasoned expert in aviation regulatory affairs and brings a wealth of knowledge and experience to the event.
"Seabury Solutions is committed to supporting CAAs worldwide in their mission to ensure the highest standards of safety and regulatory compliance within the aviation industry. Eauthority is a comprehensive solution that leverages cutting-edge technology to streamline processes and deliver measurable improvements of CAA organisations," commented Luc.
Seabury Solutions invites all conference attendees to visit their booth to learn more about Eauthority and explore how it can revolutionize the way CAAs manage regulatory and compliance functions.
To schedule a meeting with Luc or for more information about Seabury Solutions and Eauthority, please contact: mkt@seaburysolutions.com