25% Reduction in NFF Rate
Recommendations to Reduce NFF (No Fault Found) Rate.
What led this Korean MRO to select Seabury Solutions Alkym MRO Software?
Digitalization Process for CAAs
How to Digitalize your Civil Aviation Authority.
Case Study – KAEMS
What led this Korean MRO to select Seabury Solutions Alkym MRO Software?
Perhaps before we dive into the substance of this article, we should first take a look at the key player, KAEMS.

Opening ceremony of the new hangar
KAEMS is a designated service provider from the Korean Government with over 200 employees. The MRO specializes in heavy maintenance for B737s along with depot maintenance for Korean Military aircraft. Further expansion to the hangar was added to the MRO facility which brought the total number of bays to five in two hangars with additional heavy maintenance capabilities for the A320.
As a start-up MRO, KAEMS needed an MRO solution that supports maintenance quality assurance, and efficiency work and process management. Another decisive factor was integrating a solution that supports compliance with various regulations.
Mr. Won commented, "After analyzing the market and the characteristics, economics and efficiency of various products through an extensive RFP (Request for Proposal) process, Alkym was selected. The significant efforts of Kyungik An and Sangdon Kim during the sales phase had a major influence on the decision".
The Korean MRO has been able to increase operational and financial performance by utilizing Alkym to drive efficiencies through their entire organization. Improved productivity in the overall process has also reduced revenue leakages and improved KAEMS's ability to respond to customer needs, etc.
Inside the new hangar facility.
CHALLENGES OF IMPLEMENTATION
Implementing a new software solution alone entails many challenges. Carrying out such a project at the same time as establishing a company like KAEMS generates a whole load more challenges. In this special situation, the Seabury Solutions team focused on managing the following risks and completed the project within the specific time.
Risk 1: The customer's maintenance process, RSQM (Repair Station and Quality Manual), etc. might not be completely configured – the AMO (Authorized Maintenance Organization) certification had not been received at the start of the project.
Seabury Solutions approach: Due to the flexibility of the Alkym system, changes occurring in the middle of the project could easily be taken into account and applied to the system.
Risk 2: The provision of the customer's data and form (Job Card format) might be delayed.
SS Approach: The customer data was prepared relatively early through the efforts of KAEMS staff, so there was no problem. In the case of a form like the job card, Alkym's existing form was provided in reverse to KAEMS, contributing to a certain part in obtaining AMO certification (the form provided at the time is still in use)
Risk 3: Considering that it is in the early stages of the company's establishment, the project participation of client employees may be limited.
SS Approach: Fortunately, some of the key users of KAEMS participated with enthusiasm during the project, and SS's high-quality training program helped greatly in system adoption across the entire organization.
Risk 4: It may take time to define and develop an interface as it proceeds in parallel with the implementation of legacy system (ERP, Groupware, etc.)
SS Approach: Although it was the first experience of interface development with the local ERP system (Douzone iU), SS was able to successfully complete interface definition and development by separately deployed Business Analysis for interface development only.
KAEMS opted to select the full suite of Alkym modules in order to support their operational requirements and drive efficiency through their entire organization.
Mr. Won also noted, "In spite of the short seven months' schedule and limited input resources from KAEMS into the project, I am glad to be able say that we have finished the project successfully. I highly appreciate the training and implementation skills and passionate attitude of the consultants from Seabury Solutions."
The Seabury Solutions team pride themselves on fast and effective project implementations, exceeding customer expectations, and the support team can be accessed 24/7 through the global network of offices, which was another important consideration when selecting the right vendor for KAEMS.
"Another advantage of Seabury Solutions is their support. The On-Line Helpdesk enables real-time support between users and support engineers, and supports an immediate response to any problems encountered during use. All submitted tickets are managed through the ticket management and phone services, so follow-up is easy." added Mr. Won.
Alkym Implementation & KAEMS team.
To conclude, Mr Won answered a few relevant questions:
Seabury Solutions: Have you experienced any improvements in planning/production activities since the Alkym implementation?
Mr. Won: After creating a Task Master based on the standard Task Card of the manufacturer, which is commonly used as an international standard, it was possible to define the necessary materials and tools, and to define the standard labor requirements. Through the customer's proposal, it was possible to determine the work scope and calculate the related quotation and Turnaround time. In addition, it was possible to check the appropriate work balance through capacity analysis compared to workload, and it was possible to acquire necessary material inventory and establish procurement plans. As a result, it was possible to efficiently execute work planning and execution.
SS: Have you experienced any improvements in materials/logistics management?
Mr. Won: Alkym checks the available stock for the materials needed to be used, prepares for the release of goods according to the condition, and automatically generates a 'No stock' to make purchases. Through this, automation of logistics efficiency is realized through material shortage prevention, etc., and a timely procurement system is established.
SS: Have KAEMS noticed any benefits to their financial management as a result?
Mr. Won: We now get aggregation of raw data of material cost and work effort (M/H, etc.) from Alkym and transfer it to our local ERP system (Douzone iU) through the interface. Based on this information, the ERP generates the financial report.
SS: Have KAEMS noticed any improvement in their Quality/Safety practices as a result of implementing Alkym?
Mr. Won: Yes, now we can automate the organization's processes that were previously managed manually and can establish a compliance system for various regulations.
SS: What improvements have KAEMS employees noticed in their daily activity or work practices?
Mr. Won: By establishing work processes based on system processes, standardization and automation of work have been implemented to help change management. Now users can easily access system data through existing reports, queries, etc. which is a great advantage. Users can also easily migrate various technical data using the M-Transfer Tool, (Massive Data Transfer) and management of data and attached documents (Manufacturer's Manual, etc.) is made easier through the DMS (Document Management Solution) system integrated with Alkym.
In addition, we would like to improve the system to freely create and edit new Reports, Queries, etc. for users who are familiar with development languages.
SS: What's next for KAEMS?
Mr. Won: KAEMS plans to increase the range of system usage and utilization capabilities after 1½ years operating with Alkym, from work programs and standard MH (Man Hour) management. This will enable more realistic production planning in the future, improving maintenance efficiency. We also plan to increase the use of Tool & Equipment Management and M-Transfer functions through the next version update scheduled in the future.
White Paper– 25% Reduction in NFF Rate
25% Reduction in NFF Rate
Recommendations to Reduce NFF (No Fault Found) Rate
questionable components back from shops labeled "NFF". For this reason, operators need to be aware of NFF rates.
If a maintenance action results in a part removal off an aircraft due to an existing system or component diagnostic fault, the repair/overhaul process did not validate the fault. This results in the replacement of the part as not technically justified. This condition is called NFF and should be avoided in order to minimize the maintenance cost.
The reliability process allows an airline to explore reliability information for its airplanes and their components, during a specific period. An airline can compare its reliability to the overall fleet reliability, understand the cost of schedule interruptions, analyze solutions, and prioritize service bulletins based on the impact to its fleet. In accordance with this information, there are multiple factors that impact the reliability of components and, consequently, the costs associated with component maintenance.
Data released from some airlines in Americas have demonstrated high levels of NFF. Around 15% of components, across all workshops, were found to have NFF. Along with that, certain avionics equipment also experienced up to 20% NFF.
An operator and client of Seabury Solutions, that used the reliability module within the Integrated Aircraft Maintenance Solution, Alkym, established that 12% of the overall NFF are avionics components. These figures will obviously be different from operator to operator, as those who have their own shops (or at least service and test facility) would not be as worried as those who have a component exchange program.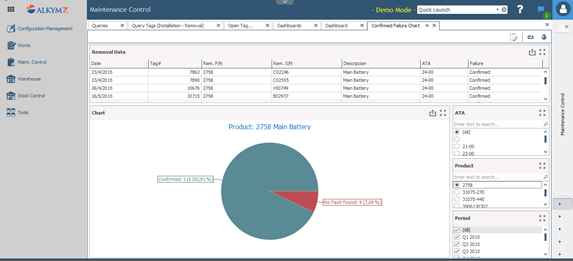 Figure 1 – Confirmed Failure Chart
Figure 2 – Bar Charts
Impact of NFF
The impact of NFF on maintenance costs are not confined to civilian airline operators. In accordance with military data from some Air Forces in South America they had a 20% of unscheduled removals reported as NFF.
Wasteful maintenance will cost a great deal of money for valuable resources, e.g. transportation costs of moving removed units to the appropriate workshop or manufacturer – especially for operators not located in USA or Europe-, which also includes the additional time spent on further testing and diagnostics. Other logistical activities also include the costs of processing activities and storage of the removed LRU's.
A fault that re-occurs often doubles the costs, not to mention producing great frustration for managers, engineers and the operators who rely on a reliable, working and cost-effective product. It is hence widely acknowledged that reducing NFF events have the potential to reduce overall maintenance costs. These costs can be realized in terms of optimization of spare parts, increased logistic efficiencies, reductions in workshop time improved test equipment and personnel training
Another factor is if numerous products exhibit NFF problems (or a single product has a regular occurrence of NFF), the Supplier or Workshop (that perform the repair) may receive an unfavorable reputation for unreliability. This can be very costly if the product is warranted and returns are much larger than forecast.
Factors Causing an NFF
Currently, highly complex aircrafts are equipped with more and more electronic sensors, computers, control functions and wires; not all conditions can be replicated on a test bench. Many factors can cause an NFF. Here are just a few examples:
Inaccurate in-flight or line maintenance diagnosis
Multiple component removals to address a single failure
Inaccurate or incomplete bench testing at repair shops or by the equipment OEMs
Inability to accurately duplicate the circumstance in which a component fails
Rogue units – a specific serial number that produces the same fault within a short timeframe when installed on wing.
An effective fault identification by line mechanic is a prerequisite. Only confirmed failure should be included. NFF is a major issue that results in high administrative burden and wasted expenditure.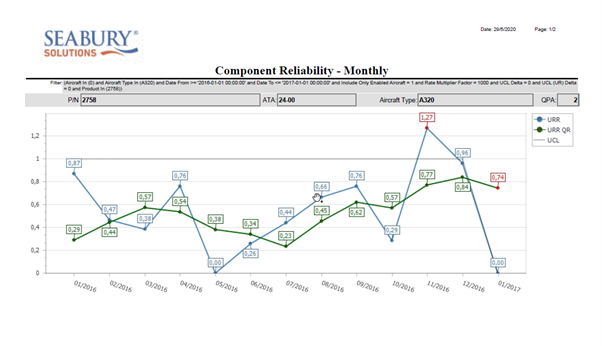 Figure 3 – Component Reliability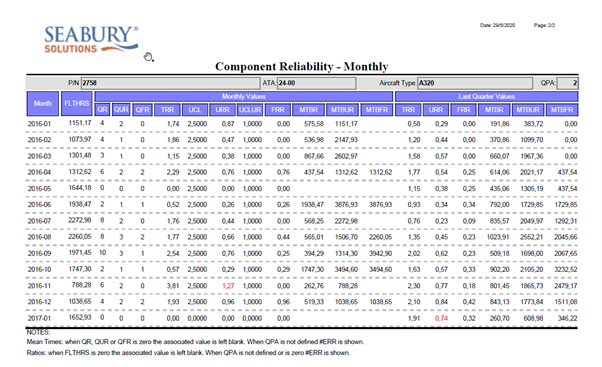 Figure 4 – Component Reliability
Improving the NFF Rate
Some recommended practices to improve NFF rate are detailed below;
Optimize troubleshooting process, learn from experience and the sharing of best practices with other interested areas to get better results. The best way to avoid high NFF rates is effective troubleshooting, using your own or other airline's experience in order to optimize certain troubleshooting steps. If component maintenance is outsourced to a service provider, it is important to have a feedback loop with the line or base maintenance provider. Alkym has tools to record and manage troubleshooting process sharing information between line maintenance, maintenance control and logistics management. Alkym also allows reliability reporting and troubleshooting summary reports that can be shared with other airlines and OEM.
Be aware of vendor warranties, component pooling agreements, aircraft leasing contracts, etc. Alkym keeps an online warranty monitoring applied to all avionics components and allows management of different pooling agreements.
Ensure accurate and maintainable reporting by line mechanics. The Alkym Mobile tool allows comprehensive reporting by technicians providing an effective fault identification.
Track cost effectiveness. Alkym Dashboards allows to keep tracked and monitored all component costs identifying costs related to NFF.
Track high NFF components, issue maintenance tips to avoid re-occurrences. NFF Alerts and automatic notifications are generated from Alkym to heighten awareness of maintenance & procurement managers about different NFF cases
Use intensively On-board Maintenance System (OMS) to reduce NFF. Alkym is interfaced with different OMS to allow online data collection and analysis.
Use Maintenance Control for technical support. The Alkym Planning tool and Fleet Monitoring tool provides the required information in a friendly way to deal with NFF cases that could impact on the operation
Educate cockpit crew on specific items to better understand what affects components' life-on-wing, e.g. heavy landing's impact on landing gear life; high speed taxiing's impact of wheels and brakes; sharp steering angle's impact on wheels, etc. Writing up detail defect information in the logbook may help line mechanics to fix problems more efficiently. Alkym is interfaced with several ETL solutions to optimize the recording of defect information by crew.
Provide feedback to training departments in order for them to revise course content. The Alkym training module allows interaction with other modules to create and manage different training requisitions that could be related to NFF cases.
In the process of troubleshooting an aircraft system problem, certain airframe, engine or avionics components are replaced. In some instances, the first component change does not correct the problem.
Some airlines implement a SOS policy (Ship Or Shelf), which is designed to reduce excessive shop costs of components removed for troubleshooting that do not correct the problem and are not physically damaged. A unit determined to be in this category may be classified as serviceable and retained at the maintenance station for future use. The policy consists in placing a removed unit (eligible for SOS policy) in the SOS quarantine and monitoring the aircraft behavior during a few flights:
If the fault does not re-appear, the unit replacement corrected the problem. The removed unit is then declared unserviceable and shipped for test/repair.
If the fault re-occurs, the removed unit is declared serviceable pending results of a physical inspection.
Alkym allows management of SOS policy providing alerts, notifications and creating automatic movements of parts in accordance with the predefined criteria set by the SOS policy.
Predictive maintenance tools can help operators to cut costs and reduce downtime. Airlines can take better advantage of the increasing amount of aircraft operational data available to support decisions and adjust maintenance planning. These tools use real-time access to aircraft data to provide enhanced fault forwarding, troubleshooting, and historical maintenance information. They allow operators to analyze data remotely, anticipate failures and procure spares. However predictive maintenance processes can also result in higher NFF rates, since a higher number of components are introduced into the repair/overhaul cycle based on predictions of impending failure of the component. However, once bench-tested in the shop as part of the repair cycle, the component may not demonstrate failure modes in the bench test procedures as when installed in the dynamic on-wing conditions resulting in an NFF score. The component is returned to the operator's inventory along with the invoice for repair shop testing of the component.
Alkym is interfaced with On board systems to get real-time access to aircraft data, but then the Reliability module – taking all the available data – allows a smart and integrated analysis that improves the management of NFF considering also NFF costs as an important factor in the predictive maintenance strategy.
Another factor is if numerous products exhibit NFF problems (or a single product has a regular occurrence of NFF), the Supplier or Workshop (that perform the repair) may receive an unfavorable reputation for unreliability. This can be very costly if the product is warranted and returns are much larger than forecast. Alkym allows to track supplier, record Repair Reports and rank shops using different ranking criteria including a including a weight due to the NFF rate.
In conclusion, it is recommended to implement methodologies based on MIS system data to minimize overhaul and repair costs and to keep monitored NFF rate for components with the highest NFF rates. The proper use of data provided by a MIS system like Alkym helps operators to minimize NFF rates and pay attention to the NFF fees in the contracts. Reliability analysis requires the synergy between a systematic approach that has clear definitions of the reliability parameters, and a comprehensive collection of analysis techniques and procedures that can be managed using Alkym.
References: IATA – Best Practices for Component Maintenance Cost Management – Second Edition Effective December 2015
White Paper– Digitalization Process for CAAs
Digitalization Process for Civil Aviation Authorities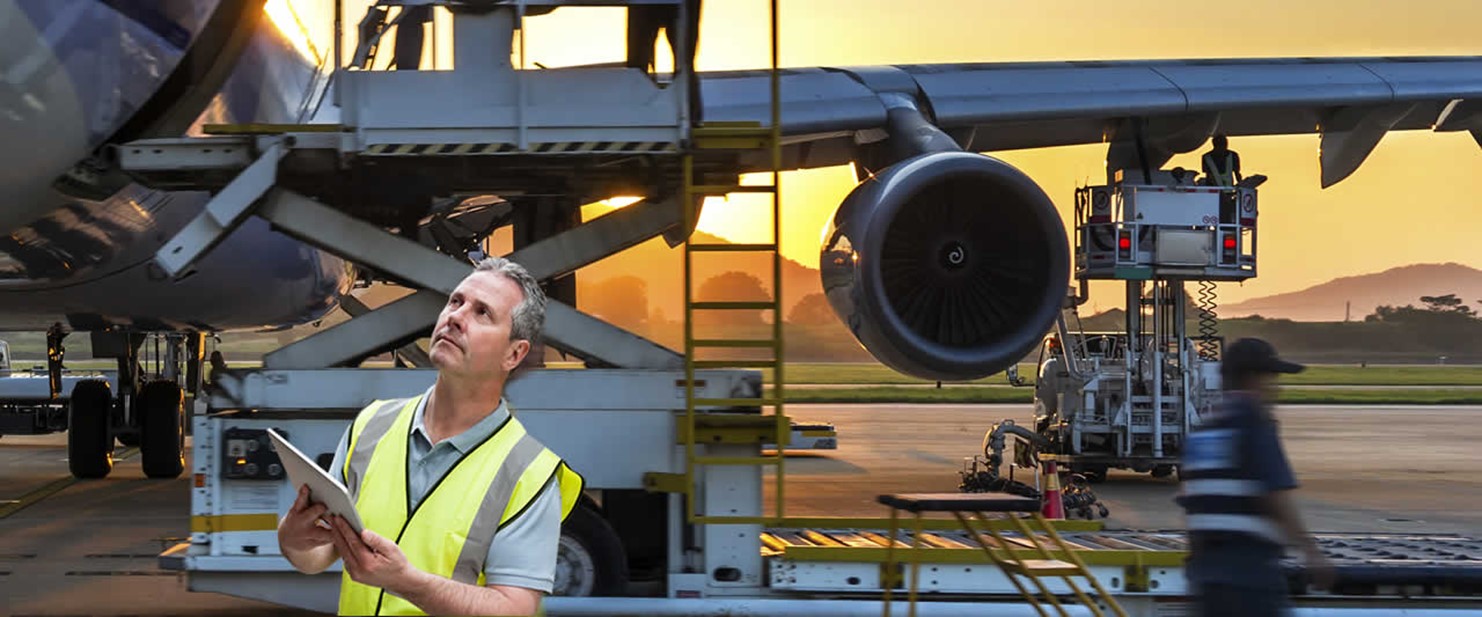 Challenges and Opportunities for Successful Digital Transformation Initiatives
About the Authors
The contributors include Seabury Solutions, Senior Vice President Luc Beaudoin, Head of Seabury's Global Civil Aviation Practice in the Berlin and Amsterdam offices, and IT Director of the Nairobi office, Valarian Makori. They wish to thank Pablo Bertorello, Sarasati Putri Palawita and Brian Walsh for their contributions to this work.
Lead Author: Passionate about transportation and high-level challenges for his clients, he works to ensure the success of their digital transitions. His expertise also includes transforming the culture and performance of organizations. He assists them in all the regions in which they operate.
Luc Beaudoin, MSc, moved to Seabury Solutions in 2015 after working for Seabury Capital affiliate company, SGI Aviation, since 2008.  While working at SGI Aviation, he was involved in many aviation projects such as CAMO and DOA setup, asset management, aircraft valuation and NCAA advisory and training. He is one of the founders of the privately run Guernsey Aircraft Registry. Previously he was the founder and CEO of youmove.ca, managing up to 15 experts within an IT company that developed a unique product to facilitate efficient residential moves. Before this, Mr. Beaudoin worked for Bombardier Capital in Vermont, USA and Bombardier Transportation in Canada and Berlin, Germany. As a Senior Manager, he worked in global corporate strategy and leading mergers and acquisitions activities globally. Before joining Bombardier inc., Mr. Beaudoin worked for the largest Canadian bank, Royal Bank of Canada (RBC), as an investment banker and trader.  He holds a Master in Science from Quebec city, University Laval, specializing in derivative finance. He also holds a Canadian Pilot License.
 Co-Author: Valarian Makori, Product Owner Seabury Solutions, with BSc Degree in Information Technology, is an Aviation enthusiast with a decade experience in aviation information systems. Valarian designed and developed the Safety Oversight Facilitated Integration Application, that enabled Civil aviation authorities and Regional Safety Oversight Organizations (RSOOs), such as CASSOA, manage safety and oversight functions effectively.  This system enabled CAA compliance with ICAO Universal Safety Oversight Program (USOAP) as part of the State Safety Program. Mr. Makori has also been involved in other projects relating to digitization and computerization of legacy processes, data, information, among others, through the development of a quality management system focused on the aviation regulatory space, that aids in managing documents, processes, procedures, and responsibilities with the aim of achieving quality policies and objectives for Civil Aviation authorities that can assist managers of these institutions in ensuring safety and compliance in day-to-day operations.
Summary
As digital technologies dramatically reshape industries, National Civil Aviation Authorities (NCAA[1]) face rapid technological and competitive landscape transformation. In most cases, their stakeholders operate in a highly competitive environment, adapting the Industry X.0 concept. The current COVID-19 crisis exacerbates the situation. In most cases, NCAAs need to support national and international industries while fulfilling their regulatory obligation. When both combine, the NCAA has a challenging role in transforming itself from a proven and stable paper-based system to a digital operation. Many NCAAs face difficulties as they do not have the in-house expertise to conduct such transformation. This white paper explores the challenges and opportunities that NCAAs face for a successful digital transformation.
The authors and IT team within Seabury Solutions have proven global aviation expertise to guide the NCAA organization for a successful digital transformation. By doing so, the NCAA will inevitably increase operational performance and enhance regulatory compliance.
Civil Aviation Authority: Eco-system and Stakeholders
A Complex Eco-system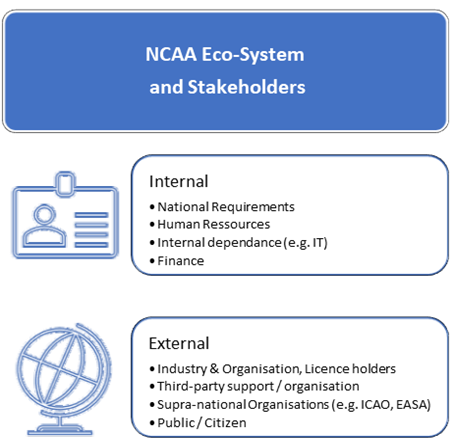 NCAAs are complex organizations with different internal and external stakeholders. They are governed by national requirements and are influenced by international recommendations and obligations (e.g., ICAO, EASA, FAA, GPDR). NCAAs may be self-governed or departments of a government. NCAA shall meet specific standards as an organization, aiming to remain efficient and effective. NCAAs have a major role in contributing to improving aviation safety standards. They should attempt to bring about long-lasting improvements in aviation systems, the culture of aviation, its capabilities, and processes that are carried out.
Digital Transformation: State of the industry and NCAA lesson learnt
Digital transformation is a series of complex tasks, even more, challenging than traditional organizational transformations to carry out.
A well-known consulting firm, McKinsey & Company described in the report "Unlocking success in digital transformations"[2] that years of research on transformations have shown that digitalization's success rate is consistently low: less than 30 percent succeed. In a more comparable industry like aviation, which is a highly regulated industry, the success rate is between 4% and 11%. Over the years, the author has observed with NCAAs a similar success rate from 8% to 17%, depending on the type of project.
The NCAA traditional structure is often based on a proven top-down approach with a highly bureaucratic, paper procedure and thorough approval approach, as is typical for a vertical-driven organization. Digital transformation requires another type of working organization and environment, a flatter and horizontal organization. One of the main observations is authorities try to convert a proven paper-based system to a digital system without reviewing and adapting their business processes and organization. By doing so, the success rate is critically low. Business Process Reengineering (BPR) is a crucial step for a successful digital transformation. Another critical element is that NCAAs often select software vendors to accomplish the digital transformation without doing the preparatory works and establishing a well-defined internal roadmap. In some cases, the vendors lack industry standards and organizational knowledge to support the transformation, or the vendor mandate is ill-defined. The application software is just one of many elements required to complete a successful digital transformation.
Finally, another critical challenge is identifying NCAA-specific constraints and opportunities that a digital organization may bring and carry out the transformation when pursuing day-to-day activities.
Critical factors for successful transformation
Three factors are consistent with successful NCAA digital transformation.
Over the years and the vast amount of NCAA projects, the authors have identified key elements specific to NCAAs for a successful digital transformation. Foremost, the authors observe that the most underestimated factor is the human factor. It is a crucial function for successful transformation. Other factors include organizational capabilities and digital tools. Another global consulting firm, Accenturethat "it's not enough to have the right technology; businesses must also enable the right people with the right skills." Human factors play a pivotal role in the transformation project.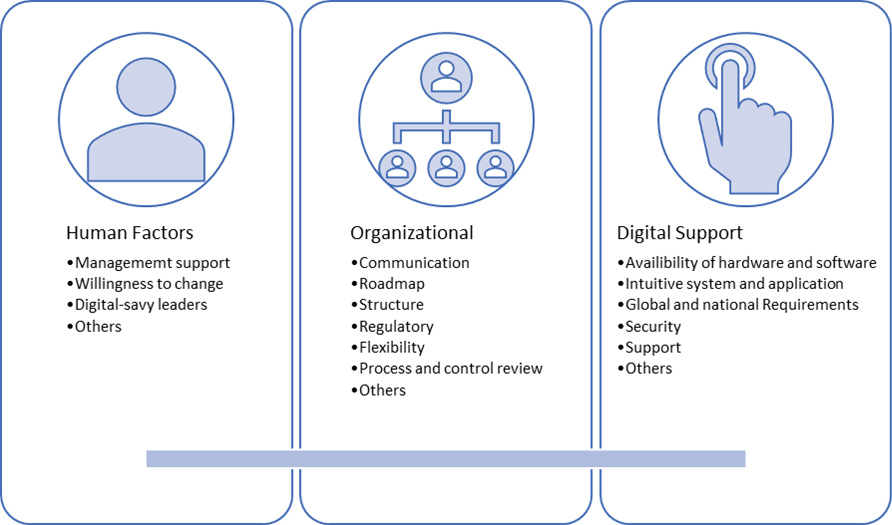 Figure 2: Key factors
Human Factors
The human factor is a crucial aspect of any digital transformation. We observe that when senior management completely supports the project, the transformation is more effective. The management sets the organizational priorities, common achievable goals, organizational review, IT, and human factors. We see that when the NCAA allocates the right, digital-savvy, and aviation experienced personnel in place, the project is more successful. The management and the digital transformation team need to identify the digital HR skills gap in the organization. Then, they may allocate training and develop a capacity build-up program. Another critical element is empowering people to work in new digital ways.
Organizational
Digital transformation is not just a one-off event, but in fact, it changes the dynamic of an organization dramatically. The management often underestimates it.
Digital transformations require both cultural and behavioural changes. We believe that the management should set common goals, roadmaps, and frequently communicate with the organization for a transformation to succeed.  We frequently observe that a common goal is not always well defined and shared. The management should clarify "what" digital transformation means for their NCAA and why everyone should collaborate under a joint mission.
Another critical factor is that the management must support the long-term change and appoint a semi-permanent and specific digital transformation team. We conclude that the management should design a new organization that reflects the updated working organization and the new digital reality for a better chance of success.
From the same McKinsey survey, they found "nearly 70 percent of all respondents say their organizations' top teams changed during the transformation, most commonly when new leaders familiar with digital technologies joined the management team". Unfortunately, we do not observe such drastic organizational change. In the traditional NCAA organizational structure, management change is more complicated than in a private business, and a more realistic solution should be considered. One recurring element is that governmental HR policies often constrain the management, and some positions require well-defined qualifications. The classic NCAA structure is almost universally the same, with well-defined departments (e.g., Licensing, Airworthiness, etc.). The organizational transformation should retain most elements and add flexibility and collaborative platforms while avoiding the build-up of the "siloed" structure. A key component to achieving a more efficient and compliant organization is to use the digital transformation for in-depth Business Process Re-engineering (BPR).  BPR serves to enhance customer relationships, update working procedures and handbooks, and increase agility and adaptability for employees, and consequently, the NCAA.
Digital Support
Industry 4.0 and subsequent X.0 bring a new reality for NCAA with the always-on, hyperconnected global stakeholder's search for personalized products and unique relationship. The modern aviation stakeholders are operating on a worldwide basis with modern digital technology. They are engaging with the NCAA on a 24/7 basis and expect the NCAA to respond promptly, when possible, by digital means. Over the years, we note that NCAA personnel are mostly employing their mobile device for their personal tasks and are more familiar with the technology. Digital adoption is becoming less of an issue. Lastly, the NCAA is engaging with non-traditional aviation stakeholders (e.g., technology firms, startups, blockchain, AR[4], Big Data, UAV[5], etc) and require new and modern approaches.
Finally, NCAAs are facing drastic and fast changes in technology. New technology and requirements such as cloud hosting, safe and secure electronic signature, data security, 24/7 customer support, mobile devices usage and security, General Data Protection Regulation (GPDR) compliance, and many other national and global requirements are fundamental. The NCAA faces the situation, in some cases, where they do not control their IT environment as another governmental service provides the infrastructure. With all those challenges, under a digital organization, they still need to provide 24/7 IT operation, infrastructure redundancy, security, high-availability service, customer helpdesk, employee hardware, vendors KPI, audit and many other services. Under a traditional NCAA structure, those tasks are not usually a core-competency of an NCAA and may require organization and human factor review.
We recommend that the NCAA set priorities and goals while collaborating with its internal and external stakeholders. Digital tools are an integral part of the roadmap for successful digital transformation to enhance operational performance.
Roadmap for a successful transformation
Prepare, Deploy and Assess: Three vital elements for a successful NCAA Digital Transformation roadmap
After completing various NCAA digital transformation projects, we establish a common approach that may apply to most NCAAs. The key elements are the Prepare, Deploy and Assess. The Figure 3 below presents a common roadmap. We recognize that each NCAA is different, and a personalized roadmap should be created to fit specific national and global requirements.
Prepare: Preparation is a crucial element for the project. The NCAAs that clearly define their digital goals and have a clear understanding of their global and national constraints show a better digital success rate.
Deploy: As a digitalization process, not all areas of the NCAAs should introduce digitalization at once; a phased-in approach may be used. If required, selecting an external vendor may be necessary, and industry knowledge, proven experience, and global scale are critical.
Assess: Digital transformation is undoubtedly changing the organization. It is essential to review the initial goals, audit in-house and external vendors, review leadership team performance, the BPR implementation, and compare the performance against defined KPI[6].

Figure 3: Suggested Roadmap 
About Seabury Solutions and NCAAs offering
Seabury Solutions provide a holistic approach to NCAA, specializing in digital transformation advisory and aviation regulatory software. The aviation IT specialists have completed more than 30 NCAA digital authorities' projects. We are offering many applications to support digitalization, such as the leading NCAA application eAuthority. When required, we work closely with our industry-leading partners to provide full digitalization scope, including compliance requirements, regulatory aspects and training.
 About Seabury Solutions
Seabury Solutions is a global aviation software development and consultancy company. It was established in 2002 and formed part of Seabury Capital. Seabury Solutions has built its reputation in the market by delivering industry-leading aerospace technology. Having built upon decades of aviation expertise in-house, this knowledge has been leveraged into a suite of products that enhance aviation operations' decision-making process.
With a truly global reach, the network of offices is located in Argentina, Australia, Berlin, Canada, Ireland, Korea, Kenya, the Netherlands, the Philippines, & the USA. This wide geographical spread allows the Seabury Solutions team to provide support 24/7 to all their customers in real-time.
[1] In this document, "NCAA" refers to a National Civil Aviation Authority (NCAA) or any similar organizations such as National Aviation Authority (NAA), Civil Aviation Authority (CAA) or Department of Civil Authority (DCA).
[2] McKinsey & Company, "Unlocking success in digital transformations", October 29, 2018, Survey
[3] https://www.accenture.com/us-en/services/industryx0-index
[4] Augmented reality
[5] Unmanned aerial vehicle
[6] Key Performance Indicator
Partnerships
Our software implementation projects teams are highly qualified professional subject matter experts and IT specialists with proven experience in the relevant aviation discipline for each product line. This is what ensures a successful implementation project. Seabury Solutions have consistently delivered projects from small operators to large carriers across the globe.
Over 100 customers in 45 different countries have experienced successful Go Lives.

We wanted to implement the product and generate results very quickly, and through the combined efforts of the business users, Southwest IT and Seabury, we were able to accomplish our goals.
Tammy Romo - Vice President,

Southwest Airlines

What Seabury / Alkym did was highlight that working inside any industry it is essential to offer value for money over your competitors whilst never compromising on the product you offer.
Mariusz Olechno - Board Member,

Enter Air

Alkym is the most cost-effective solution….an integrated system that can make the whole maintenance process simple, faster and therefore easy.
Wilmer Balderrama - Director,

Boliviana de Aviación
As an MRO provider we set out to ensure we put IT at the centre of our operations. Seabury Solutions clearly demonstrated that they understood the business.
Shai Gil - Chief Operating Officer,

Bird Aviation