Company Deploys Radioactive Waste Lifecycle Data Management System for Korea's Dedicated Governmental Nuclear Energy Research Institute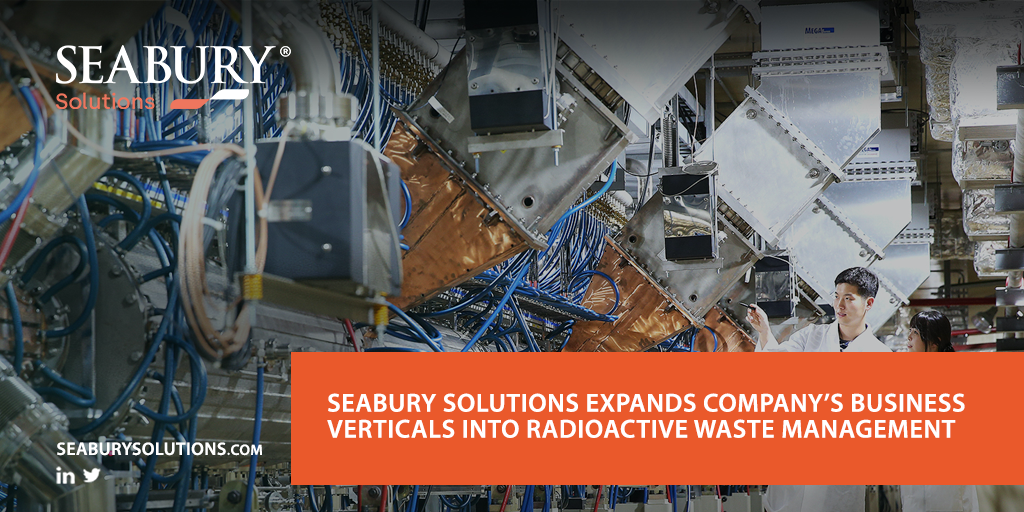 Sejong, the Republic of Korea – December 9, 2021 – Seabury Solutions, a subsidiary of New York-based Seabury Capital Group LLC and the market leader in delivering industry-leading enterprise solutions, has deployed a radioactive waste lifecycle data management system for Korea's dedicated governmental nuclear energy research institute, Daejeon-based Korea Atomic Energy Research Institute ("KAERI").
KAERI established the radioactive waste lifecycle history management system, along with a set of new procedures, to effectively manage the complete lifecycle of radioactive waste. Utilizing QR codes and the latest ICT technology, the new system supports the integrated management and supervision of radioactive waste, from generation to final treatment and disposal. It also manages even the small package waste unit to strengthen the traceability and reliability of waste.
"This system development with KAERI is a very important milestone in expanding our business verticals and developing a work system that can manage the entire lifecycle of radioactive waste based on Seabury Solutions' knowledge of information management and process management in various industries," commented Kyungik An, Seabury Solutions' Managing Director, APAC.
The new system divides the institute's system-wide radioactive waste management procedure into pre-deliberation, small package management, pre-inspection, and treatment/disposal stages. The historical information of the existing waste, which is managed by the generating facility, is now subdivided into task units, and the waste information collected for each task is input into a QR code, so the system is integrated and managed from the time the waste is generated.
Dr. Won Seok Park, KAERI's President, said: "The establishment of the radioactive waste lifecycle data management system has led to innovation in radioactive waste safety management. It will contribute to reducing radioactive waste and enhancing the reliability of local residents."
For more information about KAERI and its operations, visit https://blog.naver.com/atomkaeri/222423320584.
ABOUT KAERI
Korea Atomic Energy Research Institute ("KAERI") is a government-funded research institute established in 1959 and is the only nuclear research and development institute in Korea. The Radioactive Waste Management Center performs handover management of radioactive waste generated during operation of nuclear facilities, evaluation of the soundness of radioactive waste disposal, and safe operation of facilities for operational waste management, and is responsible for developing and operating a radioactive waste information management system. https://www.kaeri.re.kr/eng/
ABOUT SEABURY SOLUTIONS
Seabury Solutions is a leading enterprise software development and advisory company. It was established in 2002 and is part of Seabury Capital Group LLC. Seabury Solutions has built its reputation in the market by delivering industry-leading suite of IT solutions that enhance the efficiency and decision-making process for some of the world's largest organizations.
Seabury Solutions' integrated enterprise software portfolio encompasses the Alkym® Maintenance Solution for Asset Management & Control, Eauthority® (Safety Management for Regulatory Authorities), and a range of Performance Analysis tools within the Enterprise Performance Analysis System (EPAS). The EPAS® suite has models that include capabilities in determining current and future route profitability, maintenance performance, budget planning, fuel planning and distribution channel performance. Reference Seabury Solutions at www.seaburysolutions.com.