Seabury Solutions are Exhibiting ICAO GISS 2002 in Istanbul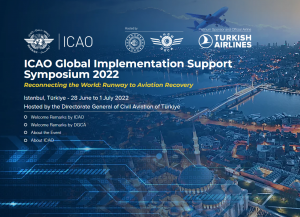 SVP & Head of CAA Practice, Luc Beaudoin and Sales & Marketing Executive, Brian Walsh, will be representing the Seabury Solutions team in Istanbul next week from 28th June-1st July 2022, at the ICAO Global Implementation Support Symposium. (GISS)
The event is hosted by the Directorate General of Civil Aviation of Turkey, and will combine ICAO's World Aviation Forum (IWAF), the Global Aviation Cooperation Symposium (GACS) and the Global Aviation Training and TRAINAIR PLUS Symposium. By merging the events, the objective is to highlight the Organization's latest digital tools, key initiatives, and collaborative endeavors to support aviation recovery, innovation, resilience, sustainable development and operational solutions beyond the COVID-19 pandemic.
The focus of this event for Seabury Solutions will be to, showcase how our Safety Oversight and Regulatory Compliance Software, Eauthority, can support Civil Aviation Authorities by digitalizing their organizational processes and providing key executives real time decision support.
Designed for regulatory, compliance, productivity and efficiency, Eauthority is an industry leading safety oversight software. The single management solution is designed to increase efficiency of internal staff while giving real-time information to the management on a multi-platform dashboard.
If you are attending the event in Istanbul next week and digitalizing your Authority's processes is on the agenda, be sure to stop by the Seabury Solutions booth #32.