Seabury Solutions will exhibit at the ICAO RAAC/17 – Seventeenth Meeting of Civil Aviation Authorities of South America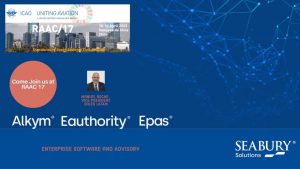 The Seabury Solutions team of VP Sales LATAM, Manuel Roche, and Agustin Bruno, will be exhibiting at the ICAO RAAC 17 Santiago, Chile from 10-14 April 2023. This event will focus on the sharing of information on the progress reached by the South America Region, along with the exchange of experiences in the implementation of safety, air navigation, environment and aviation security priorities.
From our suite of Aerospace & Defence Software, our team will be showcasing our leading Regulatory & Compliance Software, Eauthority. Inspired by ICAO, EASA and FAA regulation, Eauthority digitalizes the Regulatory Oversight process and is designed to increase efficiency of internal staff while giving real-time information to the management on a multi-platform dashboard.
Come meet with the Seabury Solutions team, to understand how your current operational processes can be enhanced and streamlined, by digitalization. To book a meeting, please contact us here https://www.seaburysolutions.com/contact-us/ 
More information on the event can be found here. https://www.icao.int/SAM/Pages/MeetingsDocumentation.aspx?m=2023-RAAC17