Seabury Solutions to exhibit at the ICAO Global Implementation Support Symposium Korea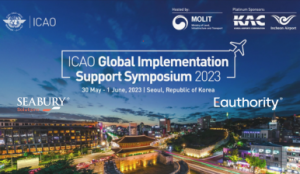 The Seabury Solutions team of Managing Director, Asia branch, Kyungik An, SVP & Head of CAA Practice, Luc Beaudoin and many of the Seabury team in our Seoul office, will be exhibiting at the ICAO Global Implementation Support Symposium in Seoul, from 31st May-1st June. The theme of the event will focus on 'Working Together for an Innovative and Sustainable Global Aviation Community' and promises to be a highly thought provoking few days, with many interactive panels.
The Seabury team will be showcasing our industry leading, regulatory & compliance solution, Eauthority, from our suite of  aerospace & defense software. Inspired by ICAO, EASA and FAA regulation, Eauthority digitally transforms regulatory oversight activities and is designed to increase efficiency of internal staff while enhancing the CAA customer experience, through the latest intuitive technologies.
If optimizing your Authorities processes is on your horizon, then be sure to meet with the Seabury Solutions team, who will be on hand to discuss any questions that you might have on the digitalization of your organization. To arrange a meeting in advance of the conference, please contact us here https://www.seaburysolutions.com/contact-us/ 
More information on the event can be found here. https://www.icaogiss2023.kr/sub01/welcome.html